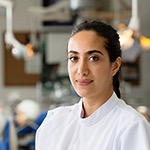 What's it really like to be an international student studying Sydney dentistry?
We know student reviews are important to help you decide if a program or university is right for you. Reviews are also a great source of info to find out what it's really like as an international student studying in Australia.
Former OzTREKK student Yasmin has been recently featured in a University of Sydney video, where she shares her thoughts about being an international student studying the Doctor of Dental Medicine in Australia.
"I chose to study at the University of Sydney because the university and its dental school are ranked among the top fifty in the world for academic excellence. I was also drawn to the calibre of research and educational opportunities, which involves placements and service in under-served communities around Australia.
"I am grateful that we have been able to apply theoretical knowledge into practice so early in the course. By our third week of classes, we had already begun practicing dentistry on plastic models in our simulation clinic. Not only have we greatly improved our manual dexterity, we have become proficient and confident as clinicians. There is a strong sense of responsibility and ownership that accompanies this level of autonomy."
Find out what Yasmin has to say about adjusting to the Australian way of life in the video below:
Doctor of Dental Medicine at Sydney Dentistry School
The Sydney Dentistry's four-year, full-time, graduate-entry Doctor of Dental Medicine (DMD) course offers you the opportunity to develop skills through practice-based learning and will expose you to new dental technologies and research. The DMD will educate you to draw on evidence to treat patients effectively and respond to the changing oral health needs of the community.
Program: Doctor of Dental Medicine (DMD)
Location: Sydney, New South Wales
Semester intake: February each year
Duration: 4 years
*
Would you like to learn more about Sydney Dentistry? Please contact OzTREKK's Dentistry Admissions Officer

[email protected]

. We're here to help!
News
OzTREKK
Student Profile