Q & A with a Canadian UQ Medical School Graduate
Let us introduce you to Jeff, a Canadian who decided to pursue his medical degree at an Australia medical school.
We asked him a few questions about his experience studying medicine at The University of Queensland, including why he chose UQ, what clinical rotations are really like, and what his top advice for future med students is—and here's what he had to say!
Tell us about yourself! Where and what you studied before going to UQ for med, why you wanted to become a doctor, fun hobbies or interests, etc.
I am originally from a suburb just north of Toronto, Ontario. After high school, I attended the University of Ontario Institute of Technology (now called Ontario Tech University) for a Bachelor of Health Science with Honours. During my undergraduate degree, I joined my university's Campus Emergency Response Team, and started providing medical care on the campus to those in need. This opened my eyes to how much I enjoyed medicine and caring for others and put me on the path toward medical school applications.
In my final year of study there, I sat my MCAT and applied to medical schools in Ontario only. After being unsuccessful in that application, I applied to and completed a Master of Science in Kinesiology and Health Science, and a concurrent Graduate Diploma in Neuroscience at York University. In my final year of study, I resat my MCAT and reapplied to medical schools, this time branching outside of Ontario to additional Canadian schools, as well as medical schools in Australia, eventually ending up here in Australia at the University of Queensland for medical school.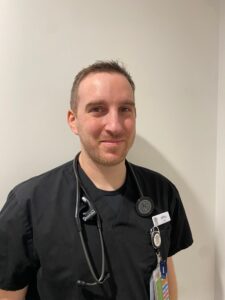 Where are you and what are you doing now?
I now live just outside of Brisbane with my wife (also a Canadian), two children (3 years and 1 year old), and our dog. I am currently working in the Intensive Care Unit at the Princess Alexandra Hospital as a senior registrar. I am completing dual training as an emergency physician through the Australasian College for Emergency Medicine (ACEM), and as an intensive care physician through the College of Intensive Care Medicine (CICM).
How did OzTREKK help you before med school?
OzTREKK helped me to complete my applications to Australian medical schools and arranged a meet and greet with fellow Canadians who were starting at UQ.
Why did you decide to go to Australia for med school?
A friend of mine, who was completing his PhD while I was doing my master's, left the program to pursue medical school in Australia. He had nothing but good things to say about the training in Australia and advised me that with the difficulties in obtaining placements in Canadian medical schools, if I were interested, he would highly recommend applying to Australia.
What was living in Australia like as a student? Were there things that surprised you?
As a student, living in Australia was an amazing experience. Brisbane is an incredible city with a great nightlife, lots of activities to do, and close proximity to the beaches at the Gold Coast and Sunshine Coast. I was surprised at how accessible everything was by bus, train, or ferry.
Why did you pick University of Queensland? How did it meet (or even exceed) your expectations?
My original reason to pick University of Queensland as a school to apply to was based on the advice of my friend who was already enrolled, and another friend from home who was applying at the same time. UQ was a great school that gave me lots of opportunities to balance study with life and be able to enjoy my time in a new country. The teaching that occurred in lectures was further cemented using tutorials, as well as by going through case studies in a small group setting to talk through how to approach cases as a treating doctor, prior to experiencing them in the real-world setting. The later years of study were heavily based in hospital, getting the chance to experience different specialties and learn from treating doctors in real clinical practice environments.
What aspects of your medical school education at UQ do you feel were most effective in preparing you for real-world practice?
For me, the case studies and bedside teaching helped me to really grasp the concepts being taught in lectures and were invaluable in helping me prepare for when I actually started practicing.
What's the med school community like at UQ? Did you have any opportunities for outreach to the broader UQ/Brisbane community?
The med school community at UQ is very broad, providing ample opportunity for extracurricular activities. I was able to participate in a med school run touch rugby league, as well as participate in a rural health club which provided support to students wanting to work in rural practice, but also provided clinical skills training days to allow practice at procedures like airway management, cannulation, suturing, plastering, and others in a safe environment. I also joined St. John Ambulance in Queensland and continued to provide first aid and emergency response care to those attending community events we worked at. There are dozens of options for how to get involved—you just need to look around and see what fits your personality!
Was there a specific moment in med school when you realized your dream was now a reality and you were officially doctoring? Tell us about it!
When I was in my final year of medical school, I got the chance to attend a rural clinical school in Bundaberg, four hours north of Brisbane. Here I was treated much more like a junior doctor and much less like a medical student, being given the opportunity to work as a member of the medical team, opposed to just shadowing their activities. I got to examine patients, assist with procedures, and this really made me feel like I was ready to be a doctor. Now, years down the track from that time, I can really say those moments gave me some of the confidence necessary to pursue my current training programs.
How did your interests and/or plans change from when you started med school to when you graduated? For example, did you go into it wanting to be a surgeon and end up loving the ER after a really great rotation?
When I started medical school, I had worked for years with St. John Ambulance in Canada and was convinced that I wanted to pursue a career in emergency medicine. When I finally entered my first placement in emergency medicine, that cemented my belief this is what I wanted to do. During my early years as a doctor, I tailored my rotations to maximize my time in ED to progress down that training pathway. When I obtained my first placement in ICU as part of my ED training program, I started to realize that there was a specialty outside of ED that I liked just as much if not more. It took a few more years of ED training before I finally decided to pull the trigger on commencing dual training so that I could work in both specialties, which I'm glad I've done.
Why did you decide to stay in Australia to practice? Do you plan to return to Canada to practice in the future? Why or why not?
I chose to stay in Australia to practice because I really like the idea of a system which allows new doctors to rotate through different areas of medicine and practice in them (through the intern and house officer system that exists here) prior to having to decide on what specialty to get into. The stress that exists having to apply to the match system that exists in Canada, and having to decide your specialty before getting to really experience different areas of medicine I think is a negative which should not be overlooked.
Currently, I have no plan to return to Canada to practice. My wife also works in healthcare (as a nurse manager), and we both have very promising career progression opportunities here, and do not think that this would hold true returning to Canada at this time. Furthermore, I would not consider moving back to Canada until I completed my fellowships, so if I were to return it would not require obtaining a position in a training program there as an international applicant.
What advice do you have for students just starting their med school journey and for those just finishing med school in Australia?
For those who want to do medical school, it's important to know that those four years are just the start. Medical school might teach you the core knowledge you need to become a doctor, but it doesn't make you a good doctor. Becoming a good doctor takes additional time to understand the healthcare system you work in, to learn how to communicate with patients, to recognize their concerns along with there illnesses and manage both, and to learn how to work in and among a team of doctors, nurses, and allied health staff of varying seniority, knowledge, and skill.
Mostly though, I think it's important to know that it's okay to not know what you want to do after medical school. Most people don't graduate and know for sure what specialty they want to go into. Some people (like me) think that they know and years down the track choose to change, and that's okay too. Medicine is a lifelong journey, not a race. Someone once told me that every specialty has aspects that are very exciting, but also aspects that are mundane.
Whichever specialty you choose, make sure you not only enjoy the exciting parts, but are happy doing the mundane tasks, because they aren't going anywhere.
***
About the UQ Doctor of Medicine Degree
The Doctor of Medicine (MD) program at The University of Queensland has a rich and proud history, and has graduated more than 13,000 doctors. The program is structured in two phases: Clinical Preparation and Clinical Practice. Across the program, you'll transition from studying specific cases in classes with a tutor to undertaking clinical placements in hospitals. Opportunities are embedded in the program for you to undertake international placements or elsewhere in Australia. These include the Observership at the end of Year 1, the Elective during Year 4, and for international students, the Rural and Remote Medicine placement that can be undertaken at a rural location in Canada. OzTREKK students have participated in clinical placements in Canada, USA, India, Papua New Guinea, and nearly everywhere in between!
Program: Doctor of Medicine
Location: Brisbane, Queensland
Duration: 4 years
Semester Intake: January
Application Deadline: Varying rounds, but you are encouraged to apply as early as possible.
If you'd like to learn more about the UQ Doctor of Medicine, let us know! Contact us at medicine@oztrekk.com and we'll walk you through it all!
News
OzTREKK
Student Profile