International opportunities for Newcastle law students
What's it like to be a University of Newcastle law student?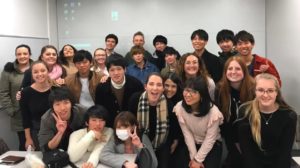 Well, lots of study and practice to be sure, but students in the Juris Doctor / Graduate Diploma in Legal Practice program also have the option to take a elective courses involving either international study tours or international internships.
University of Newcastle students who participated in the international study tour to Japan in December last year, which focused on environmental law, created a video to document their experiences!
Follow 15 University of Newcastle law students as they navigate the cultural identities shaping environmental regulation (and streets) in Japan. This video offers an insight into the university's academic and cultural learnings in Osaka, Kyoto, Hiroshima, and Tokyo.
This isn't the first time Newcastle law students got to experience international travel and learning.  Last summer, 20 law student students enjoyed a trip to East Java in Indonesia as part of the law program's International Study Experience course.
Are you interested in learning more about Newcastle Law School?
UoN is committed to giving law students opportunities for international study experiences. Last year, law professors from UoN took law students on short course programs in Brazil, Cambodia, China, the Cook Islands, Japan and Vietnam.
On top of amazing international experiences, students will have access to the state-of-the-art facilities, as Newcastle Law School is housed at the NeW Space precinct. JD students are currently enjoying the highest quality social learning spaces, digital library services and information commons, collaborative learning and research spaces, and facilities for engagement with industry, business and the community.
Program: Juris Doctor & Graduate Diploma in Legal Practice
Location: Newcastle (City)
Duration: 3 years
Semester intakes: February and June/July each year
Next available semester intake: February 2020
Application deadline: There is no official application deadline. You are encouraged to apply at least three months prior to the program's start date.
*