Newcastle law students enjoy international experience
Twenty Newcastle Law School students recently enjoyed a trip to East Java in Indonesia as part of the law program's International Study Experience course. The course focuses on the regulation of the social and environmental impact of business, and is run in collaboration with the Law Faculty of the University of Brawijaya (UB) in Malang, one of the top 10 universities in Indonesia. Law students from UB have also participated in the program, and UoN students really value the opportunity to discuss with and learn from UB students.
The students have attended lectures by UB professors on a range of topics, including regulation of palm oil plantations, corruption regulation and workers' rights. The program has included a range of field trips, including visits to a number of environmental and legal aid organisations, law firms, a reforestation project, and the state court. The students also visited one of Indonesia's largest mining-related environmental disasters, a mud volcano that has devastated a significant area of East Java (Lumpur Lapindo).
Newcastle Law students were particularly interested to learn about the recognition of Adat law (loosely translated as local customary law) within the Indonesian legal system. During the court visit, one of the judges discussed the concept of restorative justice, and the need for responses to crime to draw on local customs in order to focus on restoring harmony to a community, rather than simply punishing an offender. Restorative justice is actually a key interest of Newcastle Law School, and they are part of a project to turn Newcastle into a "restorative city."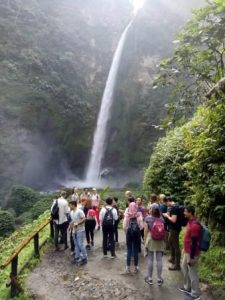 In addition to lectures and field trips, the program has involved opportunities to see some of Indonesia's rich natural beauty, including visits to the Rainbow Waterfall and to Mt Bromo, one of Indonesia's active volcanoes. While in Malang, the UB students took good care of the students from UoN, taking them to the best cafés, restaurants and other attractions in their amazing city.
Study at the Newcastle Law School
UoN is committed to giving law students opportunities for international study experiences. This year, in addition to the short course in Indonesia, law professors from UoN will be taking law students on short course programs in Brazil, Cambodia, China, the Cook Islands, Japan and Vietnam.
On top of amazing international experiences, students will have access to the state-of-the-art facilities, as Newcastle Law School is now housed at the NeW Space precinct. JD students are currently enjoying the highest quality social learning spaces, digital library services and information commons, collaborative learning and research spaces, and facilities for engagement with industry, business and the community.
Program: Juris Doctor & Graduate Diploma in Legal Practice
Location: Newcastle (Callaghan)
Duration: 3 years
Semester intakes: February and July each year
Next available semester intake: February 2019
Application deadline: There is no official application deadline. Candidates are encouraged to apply at least three months prior to the program's start date.
*
Do you have any questions about studying at the Newcastle Law School? Contact OzTREKK's Australian Law Schools Admissions Officer Molly Mahon at molly@oztrekk.com for more information.