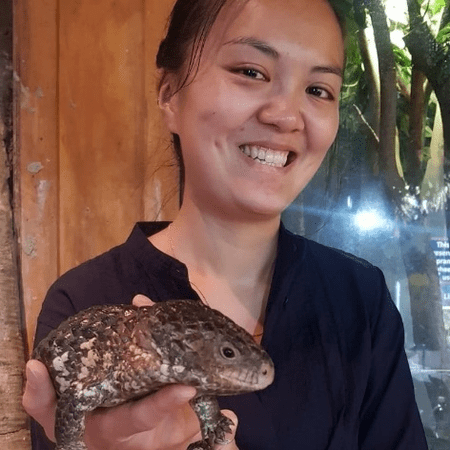 Former OzTREKK student talks about studying at UQ Veterinary School
International School Feature: Reiko' Experience at UQ Veterinary School
If you're considering studying veterinary medicine abroad, learn a bit more about the process from former OzTREKKer and University of Queensland alumni, Reiko! Reiko reached out to OzTREKK in 2014, interested in pursuing her dreams of becoming a veterinarian. Reiko is now a practicing vet in Australia and OzTREKK could not be more proud of her. A big thank you goes out to Reiko for sharing her story, and we hope you can find inspiration if you're thinking about taking the next steps.
About Reiko 
When I was in high school in Ontario, I was a part of the co-op program which allowed students to work in an area of expertise they were interested in. At 15, I began working at my local veterinary clinic where my interest and drive to become a veterinarian flourished. In 2014, I graduated from the University of Guelph with a BSc in Animal Biology. My veterinary school journey began in 2015, at the University of Queensland in Australia, through their Bachelor of Veterinary Science (Honours) program.
Why Australia?
People have always asked me, "Why did you go to Australia for vet school?" The real question is, why not? When I didn't get into OVC (I only applied once) I decided that I would explore my options. At the time, I knew vets who had attended vet school in the Caribbean and I had attended a few seminars about that application process. But I was slowly becoming more interested in what Australia had to offer. Personally, moving far away from home for vet school was enticing; I had always been an independent person with a thirst for adventure and trying new things.
The University of Queensland is the perfect place for someone who doesn't like being cold. In Queensland, summers are hot and humid (30–45 degrees) and winters can fluctuate between 5 degrees in the morning and 25 degrees during the day. The veterinary school is located in a rural town around an hour inland from Brisbane. This is the perfect place for a veterinary school because you are surrounded by farms and animals. If you're lucky, you may encounter a kangaroo or wallaby in the early mornings as you drive to school.
(Speaking of driving, it's a lot easier than you think to drive on the left, or "wrong" side of the road. I remember the first few weeks of driving, I found myself saying, "left, left, left," to remind myself not to veer onto the right-hand side of the road. As a Canadian, my Ontario license was also immediately transferable to a Queensland one.)
Another question that often comes up is, "What's the difference between Australia and Canada?" Here are a few differences I discovered upon moving to Australia:
Fruits and vegetables are sold by the kilogram, which initially made me think everything was super expensive!
Tax (GST) is included in the price of everything, so the price on the sticker is the price of the item.
Most people drive manual cars and some of my friends thought it was ridiculous that I only knew how to drive automatic.
How Do You Get Connected With OzTREKK?
While I was at Guelph, getting in contact with the people from OzTREKK was easy. A few times a month, they had a booth at the University Centre on-campus. OzTREKK made the application process incredibly simple and stress-free. However, I did do my own research to find out more about the University of Queensland, the University of Sydney and Melbourne University. These three universities are AVMA-accredited, which is incredibly important for those who will move back to North America after graduation.
Which Veterinary School Is Best For You?
Now I understand that financially speaking, not everyone has the means to move to another country. But, where there's a will, there's a way! When I compared moving to Australia vs. the US or the Caribbean, financially speaking, everything was pretty similar. There are many financial options out there, so make sure that you are proactive and do your research before deciding which place is best for you. Most importantly, ensure that you choose a place that suits your needs, lifestyle and where you can see yourself living for 4+ years.
For me, when I was making my decision to move to Australia, I took a week to decide how badly I wanted to become a veterinarian. Would I be able to take the risk of re-applying to the OVC and not getting in? Or would I be able to adapt to a life in another country, away from friends and family? Ultimately, my decision was based on what I was willing to do to pursue the career I had always wanted. You need to think to yourself, how badly do you want this? Are you willing to make some sacrifices to pursue your dream of becoming a veterinarian? All these important questions you need to ask yourself when deciding if an international veterinary school is right for you.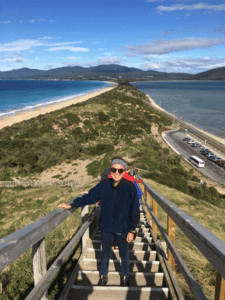 Program Specifics
I spent 5 years at the University of Queensland and graduated in 2019 with my BVSc (Bachelor of Veterinary Science). If you're worried about being an older student doing this degree, don't be! This program caters to people from all over the world at different stages of life, all coming together with the common goal of becoming a veterinarian. The university itself also has state of the art facilities and veterinary specialists to match, all which are there to help guide you through the program.
Overall, your first year is spent figuring out how to study efficiently, meeting new people, making friends, and joining extracurriculars. After first year, UQ makes it a priority that vet students do mandatory placement at equine facilities and dairy, beef and sheep farms.
It is essential as a veterinarian to have an appreciation for farmers, and to better understand the dedication it takes to raise their animals. As students, we received quad-bike training, as most farmers herd their animals using quad bikes or on horseback. As someone who grew up in the city, all of this was new to me but I enjoyed every second of it. My favourite placement was the time I spent at a robotic dairy farm, one of the few in the area at the time. These placements are done during your holidays and are a requirement to finish by end of first semester of third year.
Another aspect that makes the University of Queensland slightly different from North American veterinary schools is the oral exams (VIVAs). These are required in third and fifth year. Despite how scary these exams sound, I truly believe that they have made me a better veterinarian. The VIVAs provided me with the ability to rapidly process information about a case and decipher the important information pertinent to the patient.
Extracurriculars
Besides travelling around Australia during my holidays, I also strived to be a part of as many clubs as I could. Being able to make veterinary school a positive experience for me and my fellow students was important. I found that being a part of these clubs allowed me to focus on other aspects of veterinary school besides academics. It's all about balance! Here are a few of my most memorable experiences:
Student member of the UQ Veterinary School Admissions Committee – Being the voice of current students and their experiences in the application process, as well as shaping the application process for future students.
President and Treasurer of the UQ chapter of Vets Beyond Borders (VBB) – Fundraising for the VBB organization and ensuring students have an understanding of what it takes to partake in veterinary field medicine worldwide.
UQ Veterinary School Career and Business workshop coordinator – Coordinating job fairs and workshops for fifth year students as they seek out careers within the veterinary profession.
UQ student representative for VetPrep – Providing fellow students with information about taking the NAVLE (North American Veterinary Licensing Examination) and how VetPrep can help.
Clinical Year
My final year was the best part of veterinary school because it provided me with the opportunity to put everything I had learned into practice. As a student, fifth year was the first time I was able to work alongside veterinary specialists as colleagues. It was the longest, most tiring, but most fun year of veterinary school. Since I am interested in the avian and exotics specialty, in fifth year I had the opportunity to do placements at the Sea Life Aquarium in Melbourne, and at avian and exotics clinics in Brisbane and New Zealand. My other interests lie in field medicine, so as part of my clinical elective I spent 4 weeks in an Aboriginal community in Queensland. There, I participated in a spay and neuter clinic for local animals and provided educational sessions for children from the local elementary school.
Life After Vet School
Since graduating in 2019, I made the decision not to move back to Canada. Instead, I decided to remain in Australia, moving from Queensland to New South Wales to join a small animal general practice. The team I work with is an incredibly supportive group of veterinarians and nurses who have become part of my family. At this clinic, we do a lot of general and orthopedic surgeries, sport medicine, and work alongside local rescue and wildlife groups as well. I have learnt so much these past few months and I continue to do so every day.
This story was originally posted by University of Guelph Future Vets Club
About the UQ Bachelor of Veterinary Science (Honours)
Since its first intake of students in 1936, the UQ School of Veterinary Science has been recognized for the quality of its research and for its sustained record of excellence in teaching and learning across the veterinary disciplines. The school and its programs are fully accredited with the American Veterinary Medicine Association (AVMA) allowing graduates direct entry to practice in North America.
Based at the university's rural Gatton Campus with a staff of approximately 150, the school also operates a Veterinary Teaching Hospital for small animals, equine, exotic pets, production farm animals, and injured wildlife.
Program: Bachelor of Veterinary Science
Location: Brisbane, Queensland
Intake: February
Duration: 5 years
*
Would you like to learn more about becoming a UQ vet student in the Bachelor of Veterinary Science program? Contact OzTREKK's Australian Veterinary Schools Admissions officer at 

[email protected]

 for more info!