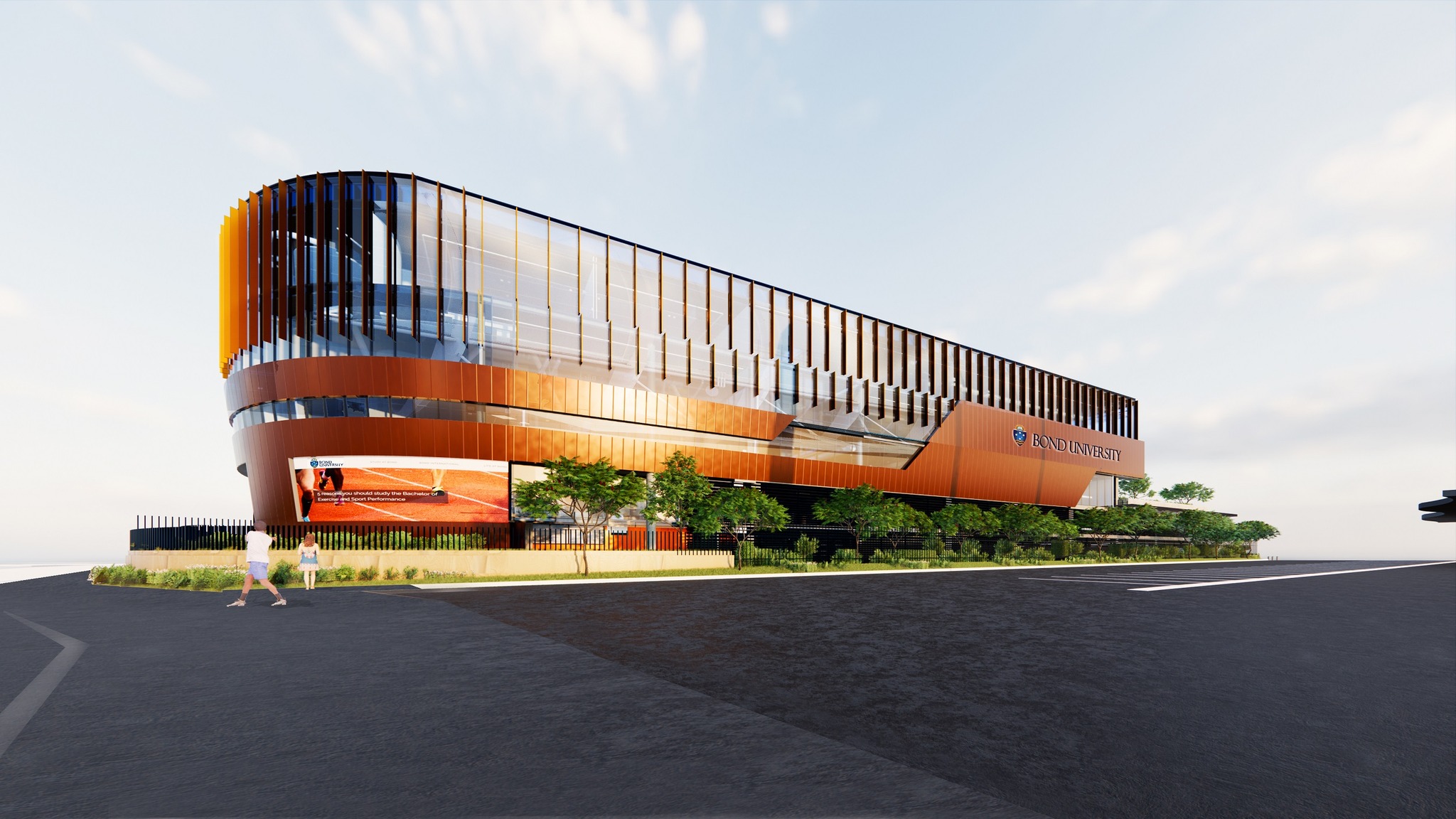 What is the Bond Institute of Health & Sport?
What is the Bond Institute of Health & Sport, and what makes it so special for physiotherapy and occupational therapy students?
The brand-new Bond Institute of Health & Sport just 4 km (8 minutes!) from Bond's main campus is a world-class teaching and training facility, focusing on promoting healthy behaviours and lifestyles and attracting professional athletes and sporting organizations from all over the world. The five-level building has created an additional 11,500m2 of education spaces, offices, and associated car parking.
The $45-million project at Robina meets the booming demand for new physiotherapists, exercise and sports scientists, dietitians, and occupational therapists.
It's also home to health and sports science laboratories, used for research and athlete testing, and by health, sports science, OT, and physiotherapy students. It also features the High Performance Training Centre (HPTC), swimming pool, and temperature contrast pools, as well as an altitude room. The specialized teaching spaces and smaller clinical skills rooms are all equipped with modern technology and features that simulate real-life clinical environments, providing students with relevant, hands-on experience. Research units based at the institute include the Tactical Research Unit and the Water Based Research Unit.
In addition to the elite athletes and Bond staff and students who regularly use the institute's facilities, many commercial practices operate out of the institute, providing the local community with valuable health services and offering internship, work experience, and networking opportunities to students.
Key Features
An exterior design that complements the adjacent stadium and will add to the overall presentation of the Robina precinct
A range of new clinical spaces, including simulated hospital wards and clinician consulting rooms to accommodate treatments in physiotherapy, nutrition, rehabilitation, and occupational therapy
A world-class 60 m gait laboratory that incorporates pressure sensors and high-speed cameras to analyze human movement, used to assist everything from recovery and rehabilitation for age-related conditions to elite sports training
Simulated residential settings to support research and education in occupational therapy
Commercial simulated kitchen facilities for nutrition and dietetic studies
A rehabilitation gym
A unique indoor amphitheatre in a 230-seat atrium designed to encourage innovation
High Performance Training Centre (HPTC)
A world-class training facility for Bond's teaching and research programs, the High Performance Training Centre (HPTC) is used by Bond's elite student athletes and attracts some of the world's top sporting organizations.
National and international sporting teams frequently use the training facility, so if you're a student based at the institute, you'll regularly witness some of the world's best athletes and coaches in action. You can access this space for work experience and practical learning opportunities.
Clinical skills rooms
Fitted with industry standard equipment, Bond's clinical skills rooms provide practical experience for students in the allied health programs: physiotherapy, nutrition and dietetic practice, and occupational therapy.
Before commencing your placement, you'll experience a variety of real-world situations in hospital-based and outpatient environments with expert guidance.
Health and sport science laboratories
Bond's laboratories are used extensively by exercise and sports science, exercise and sports performance, and physiotherapy students.
Bond students and researchers have access to specialized industry-standard technology to deliver a wide range of athlete testing and performance analysis. The university continually invests in these facilities to provide an exceptional learning experience for students and to deliver advanced testing and training services to a variety of elite and sub-elite athletes.
Allied health teaching spaces
The institute includes specialized teaching spaces for allied health postgraduate programs: Doctor of Physiotherapy, Master of Occupational Therapy, and Master of Nutrition and Dietetic Practice. These spaces enable you to acquire hands-on skills needed for a successful career in allied health.
What sustainable features will the new building have?
Environmental sustainability has been a high priority for the building design.
The entire roof of the new building houses solar panels, offsetting power consumption considerably and helping to lower carbon footprint.
Carbon dioxide monitors ensure good ventilation and high air quality. Occupancy sensors in the new building ensure lights are not left on inadvertently.
End-of-trip facilities including a bike room, lockers, and shower facilities are located on the ground floor at street level to encourage people to walk, to ride their bikes, and to exercise.
E-charging docks for cars and bikes will also be installed.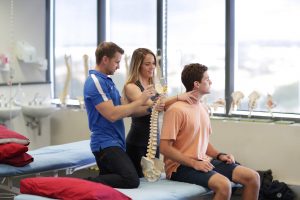 Popular Degrees for Canadians
Program: Doctor of Physiotherapy
Location: Gold Coast, Queensland
Intake: May
Duration: 2 years
Bond University's Doctor of Physiotherapy program is renowned for its unique blend of problem-based scientific learning, practical application, and up to 1400 hours of clinical placements.
There is a strong emphasis on clinical experiential learning with six units of placements in clinical settings included in the core subject listing and a further internship offered as an elective. Bond offers a variety of placements, including the lifespan of client services (pediatric, adult, ageing) and across the full spectrum of clinical areas.
Physiotherapy-designed facilities are set up to provide a therapist-patient experience like a professional clinic and assist the transition of DPT students into the healthcare setting for placements.
Physiotherapy treatment benches
Clinical simulation areas
Simulated wardroom with hospital beds and other hospital features (located at Bond main campus and the Clinical Education and Research Centre)
Research facilities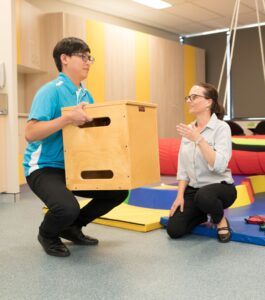 Program: Master of Occupational Therapy
Location: Gold Coast, Queensland
Intakes: May and September
Duration: 2 years
The Master of Occupational Therapy at Bond combines lectures, tutorials, workshops, case studies, fieldwork, and simulation to embed the skills and knowledge needed to succeed as an occupational therapist. You'll learn from highly qualified occupational therapy academics with clinical and research experience.
The occupational therapy rooms are specially designed teaching spaces to enable you to acquire the hands-on skills needed for a successful career in OT, such as physical rehabilitation, assistive technology, psychology, and communication.
Simulated living space
Ergonomics workspace
Observation room
Splinting laboratory
Bond's Fit to Practice Hub
Beginning in your first year of study, you will have a broad range of training opportunities that may include attending placements, preparing you to practice in a variety of roles and diverse settings.
During your placements, you will come into close contact with patients or clients that have a broad range of health issues and vulnerabilities. It is vital that you have up to date security and health protection to keep both yourself, your patients, and the people who you work with, safe from disease and harm. Bond's Fit to Practice Hub will ensure you do just that.
Your discipline in managing your Fit to Practice requirements will become a vital part of your successful professional life. If you build an "attaining and maintaining practice" skill from the beginning, just like every other skill you will develop at Bond, it will give you a foundation for excellence that will make you a standout in your career!
*
Would you like to know more about studying physiotherapy or occupational therapy at Bond University's brand-new facilities? Contact OzTREKK's rehab sciences admissions officer at rehabsci@oztrekk.com!