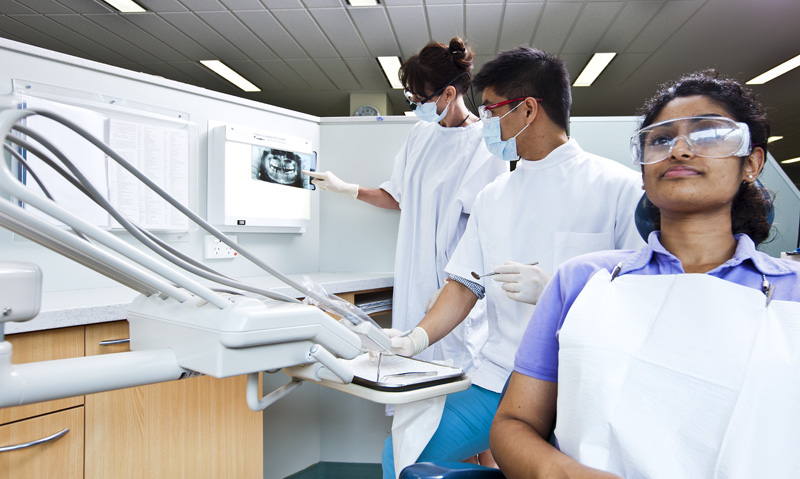 UWA Doctor of Dental Medicine student destined to shine
Third-year UWA Doctor of Dental Medicine student, Youseff, is on his way to a successful career. He represents health and medical sciences students on the UWA Postgraduate Students' Association—PSA and is the Education rep for UDSS—University Dental Students' Society.
Helping the world around you
In dentistry, he's especially loved his community placements in the Clinics to Communities program, under the guidance of Dr Jilen Patel. The program engages with vulnerable cohorts in the community and encourages thinking "beyond the tooth." He found the placements eye opening and says they allowed him to develop his communication skills, as well as helped him to understand more about the experiences of vulnerable people and how their general and oral health has been affected by their circumstances.
He then used the skills he gained during his community placements to start an oral dental public health group within the charity he volunteers for (St Mary's Outreach Service), where vulnerable people were provided with oral health advice, along with a freshly cooked dinner every Monday evening.
He's also really proud of the clothing drive that UDSS and other student groups organized earlier this year, under the guidance of the UWA Dental School. The funds and clothing donations will support two homeless shelters in Perth. Other student groups that took part included Western Australian Medical Students' Society (WAMSS), Health Students' Society UWA, UWA Guild Volunteering, and UWA Science Union.
The dream to become a dentist
Youssef has wanted to be a dentist since he was 14, when he saw an ad for a toothpaste company. The models in the ad had been Photoshopped to have extra fingers and arms, but what he noticed most was the food stuck in the model's teeth. It helped him realise how having great teeth and a nice smile can have such a big impact on a person's appearance and self-confidence. And now, he's getting to help people become healthier and more confident!
After he finishes studying, he hopes to use the skills he's gained to help the vulnerable and less fortunate in society by volunteering in homeless dental units.
When it comes to postgrad life, Youssef says, "Having a supportive and caring group of friends is what makes the difference and helps in surviving the pressure and intensity of postgrad life… and what better way to find them than joining in events and clubs!"
Story via UWA
Study Dentistry at the University of Western Australia
The Doctor of Dental Medicine at the University of Western Australia is a four-year full-time professional degree with a significant research component. Emphasis is placed on the acquisition of relevant knowledge in the basic medical sciences to support the staged development of clinical dental competencies and skills. Early clinical contact is pivotal to the course and students will enter the clinic from the first semester of their study.
Program: Doctor of Dental Medicine
Location: Perth, Western Australia
Next available intake: January 2022
Duration: 4 years
Application deadline: May 28, 2021
*
Do you have any questions about the UWA Doctor of Dental Medicine program or need help with your application? Please contact OzTREKK's Dentistry Admissions Officer at 

[email protected]

.