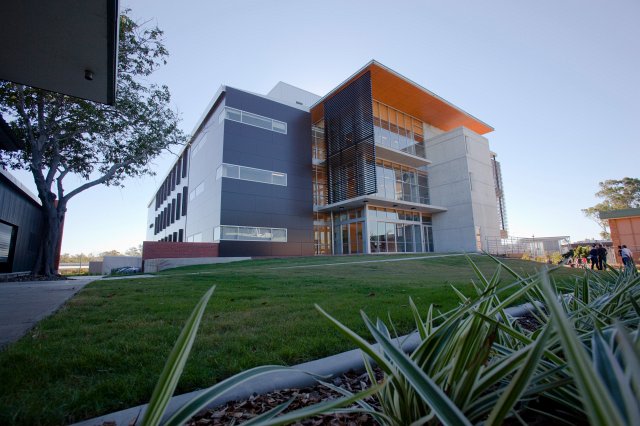 UQ Vet Student Clinical Skills Hub
UQ Vet Student Clinical Skills Hub
Long recognized for its excellence in teaching and learning, The University of Queensland's Bachelor of Veterinary Science program offers a one-of-a-kind facility and experience with its Student Clinical Skills Hub.
Students enter the veterinary science program with a vast array of qualifications, previous training, life experience and cultural backgrounds. There is a wide range of preferred learning styles and manual dexterity amongst students. The Hub provides a self-directed learning environment where students can expand on their existing skills and practice new ones learned during the scheduled contact hours of the program.
Located on UQ's Gatton Campus, the Hub is a purpose-built, state-of-the-art self-directed learning facility that consists of two main areas and an online resource community. The first area is a manual skills lab where students can practice their clinical skills using standard veterinary equipment, on simulators and/or models in conjunction with supporting audio-visual resources. The second area is a smaller communications suite with two working consult rooms, a viewing room and debriefing space.
Here, vet students have opportunities to augment and refine skills acquisition and investigate and understand the principles upon which clinical skills are based at a pace best suited to their specific needs.
All students are automatically enrolled in the Hub's online Blackboard community, which contains a semester by semester interactive skills development checklist, a summary of available activities, opening times and a wide range of learning resources.
To see the hub for yourself, explore this virtual tour of Gatton Campus. You'll also find see the library, main walkway, the plant industries lab, the e-learning lab, the agricultural farm, and student accommodations!
About the UQ Bachelor of Veterinary Science (Honours)
Since its first intake of students in 1936, the UQ School of Veterinary Science has been recognized for the quality of its research and for its sustained record of excellence in teaching and learning across the veterinary disciplines. The school and its programs are fully accredited with the American Veterinary Medicine Association (AVMA) allowing graduates direct entry to practice in North America.
Based at the university's rural Gatton Campus with a staff of approximately 150, the school also operates a Veterinary Teaching Hospital for small animals, equine, exotic pets, production farm animals, and injured wildlife. A separate mixed practice (small and large animals) is located in Dayboro, a small town approximately 150 km from the Gatton Campus.
Program: Bachelor of Veterinary Science
Location: Brisbane, Queensland
Next available Intake: February 2021
Duration: 5 years
Application deadlines: November 29 each year (We encourage you to apply as early as possible though, as spaces do fill quickly!)
*
Would you like to learn more about becoming a UQ vet student in the Bachelor of Veterinary Science program? Contact OzTREKK's Australian Veterinary Schools Admissions officer at

[email protected]

for more info!