Pharmacy vs pharmaceutical sciences – Monash outlines the difference
If you've just started considering pharmacy as a profession, sometimes the degree titles can get confusing!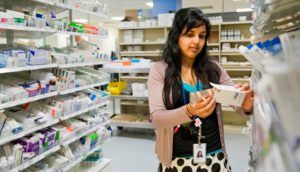 According to the 2021 QS World University Rankings by Subject, Pharmacy & Pharmacology, Monash University School of Pharmacy is ranked #2 in the world and their Bachelor of Pharmacy Honours / Master of Pharmacy is ranked #1.
Pharmacy
It is the role of the pharmacist to ensure society uses and accesses medicines correctly and safely. Many pharmacists are clinicians, treating patients through one-on-one patient care, but it is also the role of the pharmacist to ensure that medicines are collectively used in the right way by a community, according to their unique needs. Pharmacists don't just help us take medicines, they also determine what medicines are available in the market, and decide who should have access to them. As medicine experts, they can also work in government, industry, research and clinical-trial roles.
If you are interested in science and healthcare, and enjoy communicating with people, then a Bachelor of Pharmacy is for you. It's the degree you need to be a pharmacist.
Pharmaceutical Science
Pharmaceutical scientists are experts in the chemistry, biology, and biotechnology required to design and develop medicines. They play a key role in improving human health and well-being by researching and developing reliable, accessible and effective treatments.
They understand the impact of medicines on the body and diseases. They're also experts in bringing safe and effective products to market.
If you enjoy solving problems, love chemistry or biology, and want to improve human health, then a Bachelor of Pharmaceutical Science could be your calling. It equips you to work in the pharmaceutical science and biomedical fields. Here, Monash University breaks down the difference between studying pharmacy and pharmaceutical sciences.
Studying Pharmacy at Monash University
As a Monash pharmacy student, you'll have access to some of the country's best-equipped facilities, alongside innovative teaching technologies such as MyDispense—a web-based program that combines more than 300 virtual patients and 1,500 pharmacy products to provide authentic dispensing practice.
Why Would Canadian Students Study at Monash?
Aside from the advanced education, Monash also allows eligible students to complete the Bachelor of Pharmacy / Master of Pharmacy in 3 years. The final year (master year) of the course entails a paid internship, so not only do you get valuable work experience required for registration, but you also get paid for it!
About the Monash Pharmacy program
Degree: Bachelor of Pharmacy / Master of Pharmacy
Location: Parkville campus, Melbourne, Victoria
Intake: January/February
Duration: 2–5 years depending on stream
*
Would you like more info about Monash Pharmacy and about the Bachelor/Master of Pharmacy combined degree? Contact OzTREKK's Australian Pharmacy Schools Admissions Officer at pharmacy@oztrekk.com.