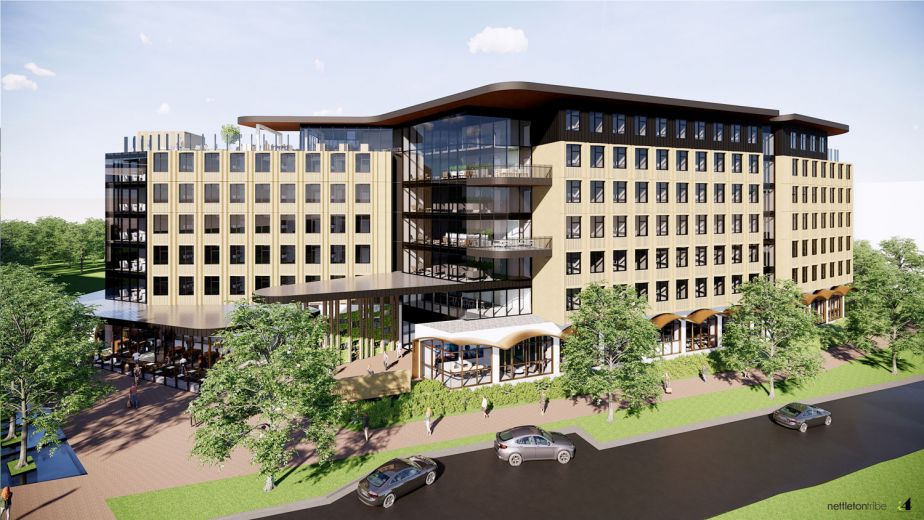 JCU unveils brand-new student accommodation in Townsville
A new era for JCU medical students living on campus has begun with the official opening of a state-of-the-art "Burralga Yumba" accommodation building in Townsville.
Derived from the Birrigubba language of the Bindal People, Burralga Yumba means Brolga Place, in recognition of the dancing burralga, or brolga.
Located at JCU's Bebegu Yumba campus in Douglas and operated by UniLodge, the $54.4-million Burralga Yumba building features more than 400 bedrooms, high-quality communal facilities, and a centralized, self-catered "master chef" style kitchen and dining space.
The building will also be home to a new restaurant, Canto Kitchen & Bar, offering both dine-in and takeaway options for students, staff, and the broader community.
James Cook University Vice Chancellor Professor Simon Biggs said he is thrilled for the students who now call the building home.
"We are delighted to be able to offer such a modern accommodation facility that will cater for students across Australia and the world for decades to come," he said.
Burralga Yumba offers study, social and activity spaces including a music room, theatre and a sports lounge. The Roof Garden Sky Lounge also offers impressive views of the Bebegu Yumba (Townsville) campus, Mt Stuart, and Magnetic Island.
There are now close to 1,500 on-campus beds available for students across the Townsville and Cairns campuses.
JCU Townsville, Bebegu Yumba Campus
Around 13,000 students study at JCU Townsville, including over 1,500 international students.
JCU Townsville, Bebegu Yumba campus is located in the Townsville Tropical Intelligence and Health Precinct (TropiQ) in the suburb of Douglas. Set in a 386-hectare natural bush and parkland setting, 13 kilometres (8 miles) from the Townsville CBD, the campus houses around 1,400 students in colleges and halls of residence. More than 13,000 students are part of the JCU Townsville community, including approximately 1,500 international students.
JCU is in a tropical area, which has a regional setting as opposed to a big city setting. The population of the area reflects many university towns in Canada, and OzTREKK students enjoy the gorgeous, hot weather and the friendliness of Northern Queenslanders.
Townsville is small enough to escape the hustle and bustle of big city life, but large enough to boast a range of facilities. Students can make the most of the great outdoors through rainforest hikes, mountain biking, and snorkelling or scuba diving on the Great Barrier Reef!
*
Do you have questions about studying at James Cook University or about student accommodation options? Contact OzTREKK at info@oztrekk.com and find out how you can study in Australia!