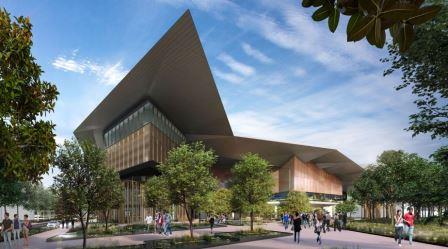 JCU Technology Innovation Centre
Construction of the landmark Technology Innovation Complex (TIC) will start next month, with the university announcing BESIX Watpac will build the $94m project on JCU's Bebegu Yumba (Townsville) campus.
The four-storey, 9,400m2 TIC will be the centrepiece of an innovation hub in which undergraduate and postgraduate engineering and IT students, industry partners and researchers will converge and collaborate.
It will be located on Mount Stuart Street, adjacent to the new student accommodation, which is also under construction. The Ideas Market will form part of this development and will be a central hub and meeting place bringing together students, staff and the wider community, connecting the TIC and Student Accommodation to the Central Plaza.
The Acting Deputy Vice Chancellor of the Division of Tropical Environments and Societies Professor Marcus Lane said the TIC will provide world-class teaching and research facilities for students in north Queensland across engineering, IT, geology, earth and environmental sciences, physics and maths.
The hands-on teaching and learning facilities are situated on the building's ground floor to ensure visibility of activities, including an active maker space, as well as geology, earth and environmental sciences teaching laboratories. The TIC will bring together research and innovation to support business and the community, involving STEM, big data and analytics, information technology and technology transformation. It's purpose-designed to allow industry to work and collaborate on solving industry relevant problems through co-design and prototyping.
Northern Area Manager and James Cook University graduate Wade Cummins said BESIX Watpac is a proud Queensland headquartered company with a history of successfully partnering with JCU to deliver top quality facilities within North Queensland.
"The project builds on the company's strong relationship with the University and BESIX Watpac's experience in delivering world-class facilities including JCU's Australian Tropical Science & Innovation Precinct, Australian Institute of Tropical Health and Medicine facilities in Townsville, and the JCU Ideas Lab in Cairns.
"BESIX Watpac is proud to be delivering this facility for James Cook University and we are excited by the opportunity to be involved in the project, which will contribute to the development of engineering and STEM graduates for generations to come. We look forward to working with local subcontractors and suppliers to deliver an exceptional building for JCU.
"We have also set a target of 6% Indigenous employment on this project, but we are confident we can actually achieve a much higher rate in line with the 11.6% achieved on the Stadium, 12.3% at Sun Metals and 11.7% on the JCU Ideas Lab in Cairns," Mr Cummins said.
The Federal Government has provided a loan of up to $96 million from its Northern Australia Infrastructure Facility (NAIF) to develop the TIC.
Site preparations have already begun and construction will begin next month. The TIC is expected to open in Semester 1, 2023.
Why Study at JCU?
Canadian students at JCU love the fact that they can study exceptional professional degrees in a beautiful, natural environment. JCU programs are hands-on and academics work closely with industry leaders to ensure degrees prepare you for "real world" careers, especially those focused on rural and remote health.
Some of the most popular study areas among Canadian students include medicine, dentistry, pharmacy, and law.