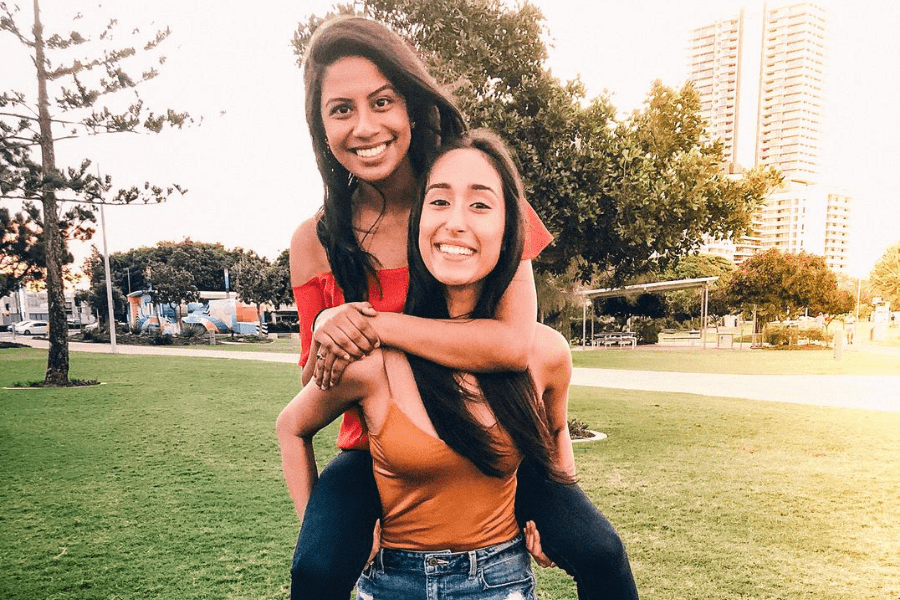 Applying to medical school straight from high school
Yes, that's something you can do, too!
We sat down with Jilsy and Nadia to get a better feel for what it's like to move across the world—and away from their families—at 18 years old. Here's what they had to say!
What made you decide to study medicine in Australia?
Jilsi: Choosing to study medicine in Australia was one of the best decisions I have made! The structure of my program at Griffith University is a 2-year Bachelor of Medical Science degree with direct entry into Doctor of Medicine—was very appealing to me. Studying through this route in Australia would save me 2 years, which I plan on using to further diversify my medical experience. The training pathway here allows doctors to get a greater depth of experience in different specialties before choosing one, unlike in North America where you have to have one chosen by third or fourth year of medical school. Moreover, I loved the idea of venturing out into a new country to do my schooling. Australia's beautiful weather, kind-hearted people, and its overall vibes all seemed very attractive to me and I couldn't wait to embark on a journey to grow independently as a person and academic.
Nadia: It's not often you'll be able to graduate as a doctor by the time you're 24! The accelerated bachelor's program and direct entry into the MD was certainly intriguing, as programs like this aren't offered in North America.
What was your first year in Australia like?
Jilsi: My first year in Australia was terrifying and exciting at the same time. Having been straight out of high school and away from my family for the first time were quite challenging initially. Learning how to cook, getting used to the humidity, and navigating my way around the Gold Coast were definitely trials I had to overcome, but I don't regret any of it. In my first year, I had also travelled to Melbourne and Sydney, both of which were overall amazing vacations.
From seeing kangaroos, to attempting to interpret the "Aussie slang," to witnessing my first huntsman spider were quite interesting experiences to say the least. One of the best parts about Australia are my amazing roommates (both Australian and Canadian) who have supported me and helped turn Australia into my second home.
Nadia: One of the biggest factors that helped me feel not as homesick was choosing where to live wisely and bringing things from home to give it that homey feel! Having rented an unfurnished
apartment, my "home away from home" is now filled with the memories of my mom and I shopping for furniture together and building it all ourselves.
Has anything surprised you about your move abroad?
Jilsi: Moving abroad has brought me so much perspective that I wouldn't have gained had I been in Canada during my post-secondary career. When I first landed, I was astonished to discover Australia's extensive greenery and its beautiful beaches. I also learned and appreciated that in stores and restaurants, the price displayed is the price you pay (tax already included).
Additionally, I was surprised to discover that A/C is not available in every accommodation and choosing housing close to reliable public transport, such as trams, is ideal. Moreover, the Australians I've encountered are very kind-hearted and generous as well as very open to learning about Canadian culture. Overall, I find myself learning something new about Australia almost every day, whether it'd be that "brolly" means "umbrella" or discovering that there is a "magpie season." I can't wait to continue learning about the Aussie culture and what the next four years hold!
Nadia: The Australian accent is super cool, but I promise you that an accent barrier does exist at times and the abundance of Aussie slang will have you scratching your head!
Are you considering applying to medical school?
Every year, OzTREKK assists hundreds of Canadian students choose the right Australian medical school program. We understand admissions requirements and application procedures to Australian medical schools, and we can guide you through the differences between undergraduate streams and graduate-entry streams, and the considerations for practicing medicine following graduation. Here are a list of medical schools that accept applicants coming straight from high school:
*
Do you need help with your medical school application? Please contact OzTREKK's Australian Medical Schools Admissions Officer at 

[email protected]

. We're here to help!
News
OzTREKK
Student Profile