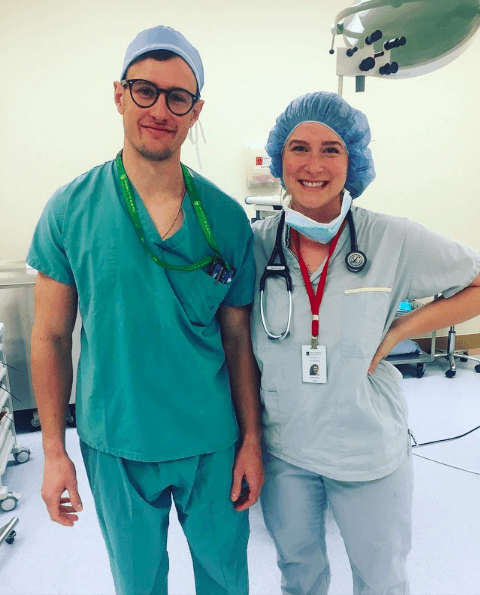 UQ medical student does placement in rural Alberta
Former OzTREKK student Amelia Keehn began her journey to study medicine in 2017. Now a third-year UQ medical student, Amelia shares her story of her rural and remote medicine placement in Lac Le Biche, Alberta!
Story and photos by Amelia Keehn
The medical degree at The University of Queensland (UQ) is unique in that you can undertake a number of placements interstate or overseas (e.g., your first year Observership, Rural and Remote Medicine and your final year elective). They also have a number of pre-approved partner institutions, outside the Faculty of Medicine. Other universities allow you to choose an Observership at a destination of your choice, either local or exotic, but the travelling ends there!
During the first year of your clinical training (Year 3), you may complete your Rural and Remote Medicine in your home country. Being a Canadian-born international student, I elected to do my rural placement in Canada. I moved to Australia with my husband and didn't want to be away for 12 weeks, but I wanted to return home to visit friends and family (and get Canadian references for my residency application, of course!)
Organizing the placement was a challenge. Like most Canadians, I used several resources.
Firstly, I created an account on the AFMC Student Portal, which is mandatory to apply for an accredited elective in Canada. The only option that met both Canadian and UQ requirements was a rural elective with Memorial University in Newfoundland, to which I applied. The cost was $1200 ($500 to create an account and $700 to apply for the elective), which is expensive. I ultimately cancelled this application and was out-of-pocket the full amount.
I touched base with a placements officer at UQ, and they emailed me a list of five clinics where students had placed in the past. Unfortunately, four were in Ontario, and I wanted a placement in British Columbia or Alberta. I began cold-calling clinics and reached out to friends and family on Facebook.
My lucky break came when my aunt mentioned she knew some of the doctors in her home town of Lac Le Biche Alberta, a relatively isolated community three hours northeast of Edmonton. They put me in contact with the practice manager, who collected all my paperwork and confirmed the placement!
It is worth noting a major obstacle to organizing a placement outside of AFMC is that clinics open to hosting students are usually are contracted by local medical schools and are often at capacity for students per rotation. Others have a strict "no international student" policy. You will likely have the most success if you use your own network (friends and family) to help put you in touch with local doctors. If you call one clinic and they say no, ask if they know any other local clinics that accept students. Don't give up!
Aside from ensuring that my required documentation was approved, there was a little preparation to do. You must arrange your own flights, transportation and accommodation—you'll also need to register with the university's International SOS.
I felt confident in my clinical abilities and well-prepared for my placement. There are lots of myths around the medical training of Australian and Canadian medical students. I have heard plenty of international students suggest that North American medical schools have more rigorous education and teach advanced clinical skills compared to Australian medical schools. In my experience, this is simply not true.
My Rural and Remote Medicine placement was my second block of Year 3. My fellow two Canadian students were more than halfway through their third year and our clinical skill and knowledge were on par. In fact, I felt my clinical communication skills and bedside manner were more refined in comparison.
It is my opinion that your "readiness" for clerkship is closely associated with your individual approach to learning. If you are a student who shows up to lectures, engages with material and takes the initiative during clinical coaching, then you will be "ready" for clerkship (Phase 2).
On the first day, I arrived at the clinic early and introduced myself. I was nervous, which is uncharacteristic for me. I was assigned to a GP for the week who began the day with a short teaching session. He asked me a lot of questions… all of which I answered wrong! On the inside, I was freaking out and just blurted out "why don't you look more impressed by my genius?" Turns out humour is a great icebreaker. After we both had a good laugh, my nerves dissipated, I could think clearly and answer questions correctly.
During Phase 1 of the medical program (Years 1 and 2), I took every opportunity to practice history-taking and physical examinations. In the clinic and in the emergency department, we were encouraged to see patients on our own to do a history and physical examination. We presented our findings, impression/diagnosis and management plan to the GP. It was a great exercise in working quickly, yet thoroughly, as your appointments were each 30 minutes. I was often encouraged to work through the management of each of my patients, including ordering staple investigations such as blood tests, X-rays and ultrasounds. I was coached through injections, cannulations and suturing.
As an aspiring emergency medicine doctor, I absolutely loved being in the emergency department. One night, I received a call from the ED doctor at 3:30 a.m. to help with the resuscitation of a critically ill elderly woman who I had seen earlier in the day. Sadly, she was intubated and the air ambulance was called to transfer her to a metro ICU. I was extremely privileged to be invited onto the air ambulance for the transfer. Prior, I had never been in a ground ambulance or air ambulance. Upon arrival at the ICU, I was asked to present the patient to the ICU team as I had the most knowledge of her status and care throughout the past 24 hours. It is an experience I will never forget.
My interaction with the air ambulance led to an invitation to do a ride-along with STARS (an iconic Canadian medical helicopter service). This rare opportunity was such an honor. I shadowed a full shift (12 hours) at the base, complete with my own flight suit, radio and dorm room. To my disappointment, I was all dressed up with nowhere to go. We were not called out on a mission that day!
Reflecting on my experience, I would say there is no right or wrong way to organize a placement in Canada. Utilize the resources available to you, but don't be limited by your home town or preconceived notions of what location is "superior." Lac Le Biche was not a location I would have thought to go, but in retrospect, it offered the most unique and memorable experience.
The best advice I can give for your Rural and Remote Medicine placement, no matter where it is, is get involved, be curious, ask if you can do it and show your appreciation! This advice will help you get the most out of any placement in medicine and can open doors to some very unique opportunities.
UQ Doctor of Medicine FAQs
Can I come back to Canada to practice?
Yes. Licensure to practice medicine requires the completion of an accredited postgraduate training program, known as a residency, as well as the completion of national qualifying exams.
Are my grades competitive?
You must have an undergraduate degree with a minimum cumulative GPA of a B (~70%).
Do I need to sit an admissions test?
Yes. You must have achieved a minimum score of 504 in the MCAT.
Is there an interview?
Yes, multiple-mini interview via video conference.
Program: Doctor of Medicine (MD)
Location: Brisbane, Queensland
Next available Intake: January 2021
Duration: 4 years
*
Do you have questions about being a UQ medical student and the Doctor of Medicine program? Contact OzTREKK's Australian Medical Schools Admissions officer at medicine@oztrekk.com for more info!