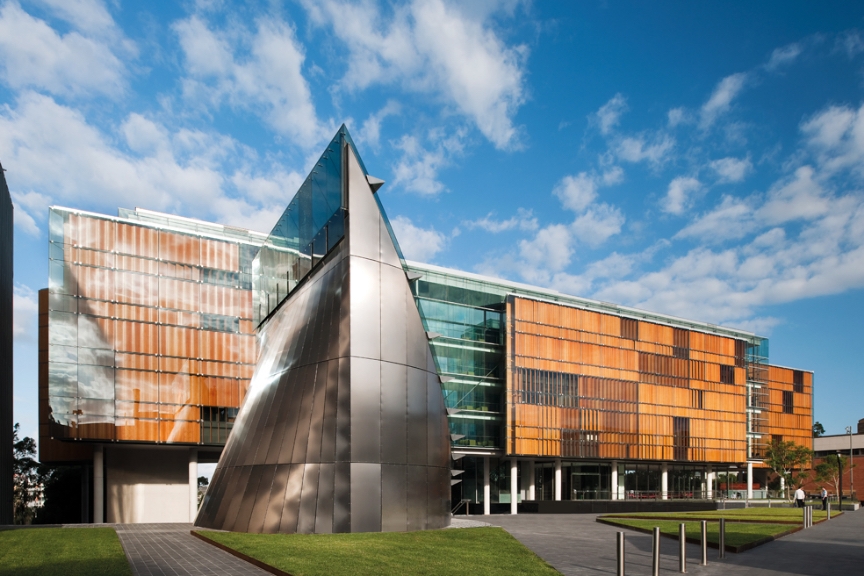 Sydney Law School student: A law degree is so versatile
First-year Sydney Law School student Katherine (Kate) Reagh has plunged into her studies in the Juris Doctor program.
The Vancouver, British Columbia native set off this past February to achieve her educational goals, and hasn't been disappointed! Read on to find out more about why she chose Sydney Law School, and what she plans to do after she attains her degree—you've got lots of options!
How did you become interested in law?
My interest in law is founded from my background in logistics and supply chain (having completed a Bachelor of Commerce at UBC). After graduation I worked for PepsiCo Beverages in the Operations Department for a year and a half. The supply chain industry is so complex and international that I gradually realized that I would need to further my education in order to achieve my goals. A law degree is so versatile and opens up a lot of opportunity, even if you don't want to practice law after you graduate.
What made you choose Sydney Law School?
I chose Sydney Law School mainly due to its international focus and specialization in Maritime (Admiralty) Law. Sydney Law School is also ranked very highly around the world and is one of the top 10 law schools internationally (based on the 2014 QS World University Rankings).
What are you enjoying the most about your program?
I love the diverse array of students in my classes and the amazing profs who come from all different backgrounds as well. The professors often draw from Canadian, American and New Zealand case law which makes the lectures relevant and very interesting. Also, the feedback opportunities are very helpful for first-year students. The curriculum is tough and demanding; however, the law school gives you ample tools in order to succeed. The professors are really approachable as well.
What do you plan to do after you graduate?
I'm halfway through my first year so no solid plans yet! I'm not sure if I will stay in Australia or go back to Canada. I am currently also looking at opportunities in Singapore as the transfer program is conducive to Australian law school graduates.
"Australians are very similar to Canadians—outgoing, welcoming, and very friendly. You will make friends in no time!"
Plans for articling?
I have no solid plans at the moment! I'm looking at mainly corporate law firms that have a focus on international shipping. However I would totally work for a small boutique firm if given the opportunity!
Do you have any tips/advice for Canadian students who would like to attend Sydney Law School?
Before moving:
1. Be organized. The more organized you are the less of a transition you will undergo. I was a super nerd and created a huge binder with tabs for all my relevant documents. Honestly, it helped a lot to have everything in one place.
2. Don't leave things to the last minute. OzTREKK is really amazing this way as they send out checklists that should be completed by certain time frames. Stick to them! It's always better to be over-prepared (you will find this during exam time as well).
During school:
3. Stay on top of your reading. This is really common sense stuff; however, the reading at this level is different from the undergraduate level. Skimming over the text book before class is not enough. You need to engage with the material and do tons and tons of practice questions.
4. Keep calm and collected. Don't panic if the marks you get on your first assessments aren't what you were used to achieving as an undergraduate. If you receive a poor mark, it is not necessarily an indication of how you will do for the remainder of the degree. In the beginning, you are learning what they are expecting from you and how to answer the questions in a concise and clear way. If you put in the effort, you will get the hang of it and your marks should improve.
Where are you living? How did you find your accommodation? Tips?
I was lucky and my sister was already living in Australia and she found a place before I moved down. However one thing to note is that rent is expensive in Sydney and is normally paid fortnightly. Definitely try to connect with other students who could be potential roommates before you move. I am currently living in Randwick, which is a bit of a commute, especially in rush hour. The perks of Randwick is that it is right by the beach, but sadly the buses to school are not normally on time. I recommend living within a 25-minute walking distance from the university. Surry Hills and Chippendale are pretty neat areas. Newtown has amazing cafés, too!
"A law degree is so versatile and opens up a lot of opportunity, even if you don't want to practice law after you graduate."
What is the Sydney lifestyle really like?
Sydney lifestyle is very laid back and outdoorsy. Also, the coffee culture is rich—you will not find any chain Starbucks or Tim Hortons here!  Aussies are also very social and always willing to grab a drink and catch up. There wasn't a huge culture shock moving to Sydney, as Australians are very similar to Canadians—outgoing, welcoming, and very friendly. You will make friends in no time!
What has been the most unexpected or surprising thing about being in Australia?
I was surprised how cold it got in the winter! I know coming from Canada you are seasoned for chilly weather; however, the cold is different in Australia, mainly because there is no central heating system and most apartments are not insulated. My advice is to purchase an electric blanket for the chillier months (June – August).
What do you think of OzTREKK's services, and how did you hear about us?
OzTREKK was amazing! So helpful and friendly and always answered my emails within one or two days. They made the moving process was straightforward and easy! Furthermore, they send out a contact list so you can get to know other students before you move across the world. I found out about OzTREKK initially via the University of Sydney website; however, I also met some of the staff at UBC when they set up a booth in the SUB.
About Sydney Law School's Juris Doctor Program
The Juris Doctor (JD) ushered in a new era for the Sydney Law School and its teaching of law at graduate level. A comprehensive three-year degree, it has an unrivalled international focus, where students receive a comprehensive overview of the practice and profession of the law in Australia and how it relates globally, transnationally and internationally.
Program: Juris Doctor (JD)
Location: Sydney, New South Wales
Duration: 3 years
Semester intake: February each year
*
Piqued your interest? Find out more about studying at Sydney Law School!
News
OzTREKK
Student Profile