Studying medicine at The University of Notre Dame Australia
The University of Notre Dame Australia is a leading Australian university which offers an exceptional educational experience coast to coast. The university has campuses in Sydney, Perth, and Broome, and 7 clinical schools in New South Wales and Victoria.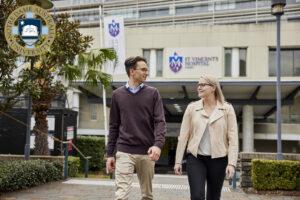 Fremantle Campus
The university's foundation campus is in the historic west end of the port city of Fremantle, approximately 30 minutes south of Perth. Housed within beautifully restored heritage buildings, it provides a town university of great character. The iconic campus is close to the Fremantle Harbour, cafés, shops, the famous Cappuccino Strip, and all major transport hubs.
Since the opening of The University of Notre Dame Australia in 1989, Fremantle has also been known as a "university town" and supports a growing student population.
Sydney Campus
The Sydney Campus is based across two sites—Broadway and Darlinghurst—both located in the vibrant social hub of the harbour city. The Broadway site is at the heart of Sydney's uni precinct, a short walk from Central Station and close to Darling Harbour. Darlinghurst is situated to the east of the CBD, nestled in Sydney's shopping and café district.
About the Doctor of Medicine
The Notre Dame School of Medicine is committed to providing an education that not only teaches the science and craft of medicine, but also develops passionate and devoted medical practitioners. It is for this reason that the MD entry requirements are based on more than your test scores, with traits such as passion, motivation, and purpose highly regarded.
This program is available in both Fremantle, Western Australia, and Sydney, New South Wales!
Here's a quick peek at the Doctor of Medicine degree:
Doctor of Medicine in Fremantle, Western Australia
As the only medical degree offered by a Catholic university in Australia, this program gives you the opportunity to complement your technical skills and medical knowledge with a thorough grounding in ethics. This program also examines the special health needs of Indigenous people and rural communities in Western Australia.
The first 2 years of your degree are underpinned by problem-based learning (PBL) and include the study of basic clinical sciences, population and preventive health, bioethics, therapeutics, and more.
Doctor of Medicine in Sydney, New South Wales
The first and second years of your studies provide a solid foundation for your medical degree. You will have the opportunity to undertake problem-based learning tutorials conducted by medically qualified tutors, clinical and communication skills sessions, workshops, clinical debriefing tutorials, and site visits. In second year, you will begin to work on a research-based or professionally focused project in one of 10 themes such as Clinical Science, Bioethics, Aboriginal and Torres Strait Islander Health, Rural Medicine, or Medical Leadership and Health Policy.
Program: Doctor of Medicine
Location: Fremantle, WA; or Sydney, NSW
Intake: January / February each year
Duration: 4 years
*