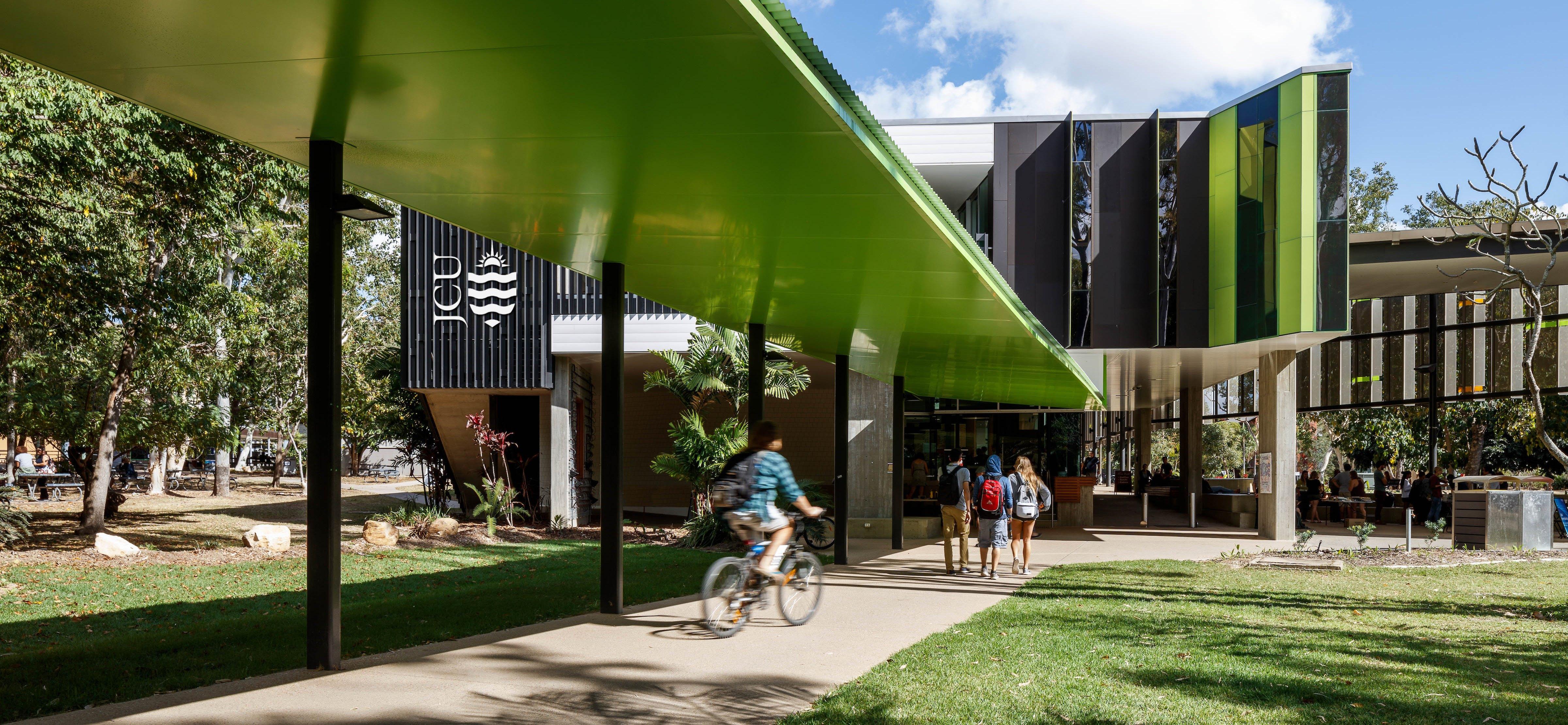 JCU pharmacy graduate chats with OzTREKK
Would you like to study pharmacy in Australia? Ever wonder what it's like, and what your options are after you graduate?
After graduation from JCU pharmacy school, former OzTREKK student Jeremy W. decided to stay in Australia to practice pharmacy and then take the Pharmacy Examining Board of Canada (PEBC) Qualifying exams. He completed the Australian registration process, which included a year of internship (1,824 supervised hours), a written exam, and an oral exam. He flew back to Toronto to complete the PEBC exams.
So what happens if you decide to stay in Australia after your studies? Read Jeremy's story and find out where he's headed on his "Study in Australia" journey!
Did you enjoy your time at JCU?
James Cook University is a great university and the pharmacy program was just what I needed. It's a fairly small program so you get to know all the staff on a first-name basis and are able to get lots of one-on-one help if needed. I did find that I was much older than the majority of my classmates who had just graduated from high school.  I had taken a year and a half off after finishing a degree at the University of Guelph to teach English in South Korea and found I really didn't have much in common with any of them so didn't really socialize with them outside of class time etc.
The campus is very spread out on the outskirts of Townsville with plenty of bush turkeys, wallabies and other random wildlife always visible. The pharmacy department itself is located in a very new area of the campus (along with medicine and some research departments) so all the facilities are state of the art.
What did you like about the pharmacy program? What was your best memory from your time at JCU?
The JCU pharmacy program itself is great and I really think it properly prepares you for the registration exams (both written and the oral OSCE). I noticed that while doing my internship year a lot of other students from other universities were not as prepared or confident in oral exams.
JCU Pharmacy School always emphasized the importance of being both prepared for written exams as well as being able to think quickly and react during an oral exam. I found that I was much more relaxed for the oral registration exam than some of the other candidates.
You've completed the Australian pharmacy certification process. Did you find this process straightforward or challenging?
The Australian process is both difficult and straightforward. After graduating, everyone must complete a pre-reg internship before becoming fully registered. This consists of almost 1,900 supervised hours working directly under a registered pharmacist. During that time you must complete a recognized training program (offered through the various pharmaceutical organizations—I choose to do mine through the Pharmaceutical Society of Australia). These programs require face-to-face training weekends, assignments, as well as preceptor evaluations. You must also complete a written MCQ exam as well as an oral OSCE. These exams are only allowed to be done once a certain number of supervised hours are reached.
Once all exams, supervised hours, and training program are completed, you are able to apply for general registration. The organization that regulates this is very strict with their paperwork etc., and not great with communication. Because I'm considered an international applicant (even though I studied in Australia and passed all the required steps), I had to prove that my secondary education in Canada was conducted in English. This delayed my registration and I was barely able to start work on the day I was needed to start.  I would advise clarifying all paperwork with them before it is sent in.
What should new pharmacy students be aware of?
I would suggest getting a job at a local pharmacy as soon as possible. This will help to familiarize you with the differences between the Canadian system and Australian system. It will help with studying as you will be forced to look at products and discuss them with a pharmacist as well as customers. I found this really helped me learn about the over-the-counter products and to boost my confidence with discussing (sometimes embarrassing) health concerns and medications with random strangers.
Do you feel your studies at JCU prepared you for Canadian pharmacy certification?
From what I can see about the evaluating exam, there is a strong focus on biochemistry. I was given credit for courses I took at the University of Guelph and was never required to take any biochemistry courses at JCU. JCU focuses heavily on pharmaceutics and more chemistry than biochemistry, so I definitely feel I will have an advantage in those areas.
Australia and Canada have different names for drugs as well as different uses for medications and completely different laws. These are areas that every international student should be expecting to be behind in when returning to their home country for work.
If you could tell future pharmacy students one thing to help them prepare for their studies, what would it be?
Townsville is fairly isolated but does have an airport that services a few of the capital cities, which have connections to pretty much every airport in the country. Flights to and from Townsville are more expensive than other cities, but air travel here is not overly expensive.
Research areas you want to live in before you get here. Some people prefer to live close to campus, but fairly far from the city centre, beach, nightlife etc. I preferred to live closer to my jobs and only went to campus for class etc. I found I was very rushed when I first got here. You get dropped off at a hostel and then there is a mad dash to find a place to live. It's a quick process, but you may not end up in a place you are happy with. It took me a few places and a couple of years to find a place that I really liked.
I would also suggest bringing a few Canadian pharmacy resources with you. This will allow you to learn both the Australian way as well as the Canadian way of doing things and make you that much more prepared for the Canadian exams.
JCU allows you to do a work placement in your home country. I would definitely take advantage of this! It really helped to learn the process of how things are done in Canada (completely different from Australia) and allowed me to see a completely different perspective. I was fortunate that when I graduated that "retail pharmacist" was still on the Skilled Occupations List (SOL), so I was able to apply for a Graduate Skills 485 visa.  This allowed me to complete my internship and get registered. Now that pharmacist is off the list, I am unable to apply for permanent residency based on my skills and once my visa expires I will have to leave the country permanently. I will most likely maintain my registration here so if anything changes and pharmacist is returned to the list, I will have the option of returning and working right away.
Fast facts the JCU pharmacy program
Program: Bachelor of Pharmacy
Location: Townsville, Queensland
Semester intake: February
Duration: 4 years
Application deadline: No set application deadline
Entry Requirements
You may apply directly from high school or after having partially or fully completed university studies.
1. Completed high school diploma
Completed a high school diploma with a minimum average of 84% in top six Grade 12 courses, including successfully completed prerequisite studies in Grade 12 English, chemistry and maths B.
2. Completed bachelor's degree
If you have commenced or completed a university degree, the grades from your most recent studies will be assessed. If you have not completed the prerequisite subjects in your post-secondary studies, your high school transcripts will then be assessed for prerequisite subjects. The minimum average for admission for those who have completed university studies is a cumulative average of 68%. You must submit official academic transcripts from both university and high school.
*
News
OzTREKK
Student Profile