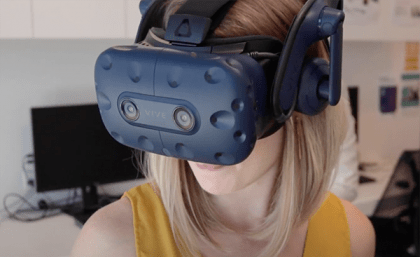 Explore Griffith University in virtual reality
You're here, Australia is there. After everything that's happened recently, it seems like Australia is farther away than ever.
Griffith University would like to help fix that.
The university's selection of Virtual Experience images has recently been updated to include their GELI facilities on the Gold Coast, and additional images of the Queensland Conservatorium of Music, Clinical Spaces, Creative Spaces and Tech Spaces. Even though you may not be able to visit Griffith in person right now, they have the next best thing available, with virtual reality experiences showcasing Griffith campuses, staff and students.
The wide range of 360 images from across Griffith's campuses lets you explore Griffith from your own home, and lets you easily view the university's creative, technological, clinical and student spaces, as well as other facilities and buildings. These 360-degree images have been created so that you can take your own self-guided tour of the selected spaces, and get a taste of what it's really like to be on a Griffith campus.
Griffith also have a selection of virtual reality videos for you to enjoy. These short VR experiences are a fun way to immerse yourself in campus life. Meet Professor Bela Stantic in Griffith's Big Data Lab, or find out more about studying health at Griffith with some medicine, dentistry and nursing students while they are in the nursing clinic.
These videos and images can all be accessed from your computer or mobile phone, and if you are lucky enough to have a VR headset, even better!
Experience Griffith University in virtual reality.
About Griffith University
You'll learn in new teaching spaces that have been designed to inspire creativity, promote collaboration and encourage innovation. You'll also enjoy a great campus lifestyle, with access to a range of new sporting facilities and student experiences! One of the university's new campus developments includes the $150-million Griffith Health Centre, extended Library and Learning Commons and new Griffith Business School building at the Gold Coast.
Some popular Griffith University programs for Canadian students include dentistry, medicine, law, physiotherapy, occupational therapy, speech pathology, nursing, public health, and teaching.
*
Would like to learn more about studying at Griffith University? Let us know! Contact us at 1-866-698-7355 or email info@oztrekk.com.