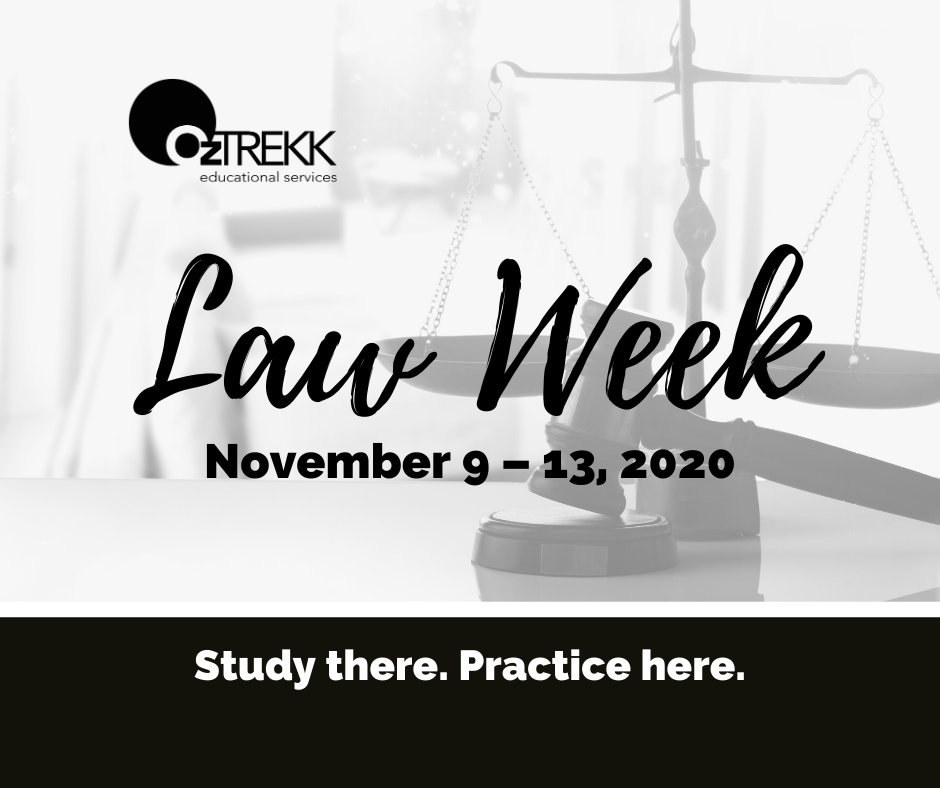 Experience Law Week Nov. 9 – 13
Are you considering studying law at an Australian university?
Then don't miss OzTREKK's Law Week — Experience Law School. We want to get you excited about the law schools we feature and what you should expect when studying law in Australia—including how you can start your studies online!
Here's what next week will be about:
OzTREKK Law Week
November 9 – Blended learning in Australia
Join us and a Griffith University law student for a webinar to chat about their online learning experience. Register to attend!
November 10 – Online learning from Canada
Bond University law student, Ali, takes over our Instagram stories today to give you a glimpse into what online learning looks like from Canada. Have questions about his experience? There'll be chances to send them his way!
November 11 – Mooting and Seminars
Law school is more than just reading textbooks and writing assignments!
Today you'll learn about one of the most challenging and rewarding experiences in which a law student can partake—mooting!
In the evening, join Sara Breusch from the University of Newcastle for a taste of the blended learning experience. Sarah, the director of the University of Newcastle Legal Centre, and a professor in the JD program, will chat about opportunities students have during their studies to get involved and put their legal know-how into practice. Joining Sarah will be Dave Lotimer, a former OzTREKK student who has graduated from the Newcastle law program and is now working in Ontario. Get your questions ready and learn about a student experience,  too! Register to attend!
November 12 – Accreditation and Working in Canada
Planning to return to Canada to practice? Find out more about how that process works and hear from people who have been there and done that. Join a Sydney University law graduate and a Bond University law graduate to hear their experiences with accreditation, licensing, and finding work once back in Canada. Register to attend!
November 13 – Law Library
Ready to dive right into law school? We've put together a law library just for you that's packed with blogs, videos, webinars, and information for each Australian law school. Want to check it out? Email us!
OzTREKK is here to help!
We know preparing to study on the other side of the world is incredibly exciting, but we also know it can be intimidating. Our goal is to give you heaps of information that will help you know what studying law in Australia (and online!) is all about.
How to Apply to an Australian Law School
You're in luck! Many Australia law schools offer multiple intakes, so you can apply at almost any time during the year! Applying to the law schools listed below via OzTREKK is streamlined and stress-free. You can apply to three law programs at the same time via our online OzTREKK application. Want to apply to more? Just contact us!
*
Need help with your Australian law school application? Contact OzTREKK's law admissions officer at

[email protected]

, or call us at 1-866-698-7355 to discuss your options!