That's where OzTREKK comes in! When you're first considering studying in Australia, you may have questions about the universities, their programs, and how to apply.
When you contact OzTREKK for info about a program area, an admissions officer will send you a program-specific online OzTREKK Admissions Guide. You will also get one-on-one guidance from OzTREKK to help you decide which university and degree works best for you.
What do OzTREKK students say about our services?
Check out this video and visit our OzTREKK Student Reviews page!
Ask questions about your program of interest
Start your application
Submit your transcripts and other documents to complete your app
OzTREKK submits your application(s)
You get an offer and meet the conditions
You pay a deposit & buy OSHC
You get a Confirmation of Enrollment (CoE)
You enter the predeparture phase
You get an Australian student visa
You book your flight to Australia
Are you missing a prerequisite? Didn't get the score you were hoping for on your admissions test? Our goal for you is to attend your first preference program at the Australian university of your choice, but sometimes it's not always that easy.
Here are some of the most common hurdles students face when applying to Australian universities.
Find out more about being eligible to apply, including all the bumps you may find along the way—and their solutions!
If you're considering studying outside of Canada, you know you have a lot to think about: Which university and program should you choose? Where should you live? Where are the best places to eat? What do you do in your spare time? Can you take your degree home to practice? The questions are innumerable!
Well, we're here to help. In order to give you a real, first-person perspective, we decided to feature OzTREKK Student Ambassadors.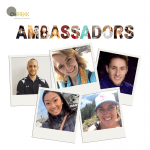 No one knows what it's like to live and study in Australia better than our students, so we have asked five OzTREKK students to document their day-to-day life in Australia, their universities and programs, and much more.
Meet the OzTREKK Ambassadors!

When you apply through OzTREKK, a dedicated admissions officer will be assigned to your file and will walk you through each step. OzTREKK will
provide you with one streamlined, easy-to-follow application for all our university partners;
provide you with all applicable supplementary university application forms;
let you know which documents are required to complete your application;
organize and submit your application(s) to the universities on your behalf (no need to mail your documents to Australia!);
inform you of the outcome of your application.
Should you receive an offer, your admissions officer will also guide you through the acceptance and predeparture processes. Whenever you have questions or concerns, we are just an email or phone call away!
Sure, the applying part might be pretty straight forward, but what about the coming home to practice part? Are there any steps you need to take when you return to Canada with your degree?
Usually, yes! Depending on your program, it could be as simple as filing paperwork or as complicated as taking additional studies and exams. But we won't leave you stranded. We'll walk you through the process before you make your decision to study in Australia to make sure it's right for you.
Sounds a bit stressful? Don't worry. We're here to help you understand the licensing process specific to your degree and to your province. Whenever you have a question, just email your OzTREKK admissions officer—that's why we're here!
Learn more about taking your degree home on our Licensing page.
Being a parent of a student studying abroad is exciting—but it can also be a bit stressful at times.
We've got your back. In fact, we've got each other's backs!
We created the OzTREKK Parents' Network for all parents of OzTREKK students who are studying in Australia or New Zealand. The network is your place to ask questions, share stories about your children, and connect with others who are going through the same emotions that you are—and OzTREKK staff are always on hand to answer questions!
Parents will receive an invitation to join this private group after their child accepts a letter of offer.
Are my grades competitive for a bachelor medical degree?
Eligible candidates must have an a high school diploma with an overall average of approximately 90%. This varies by university. Check the individual universities listed on this page for details.
Are there any fast-track public health degrees?
Yes, the University of Newcastle's Master of Public Health program is only 1 year.
Several other universities offer public health degrees from 1 – 1.5 years, depending on your previous studies. Please contact OzTREKK for more information.
Are there any online degrees for public health?
Yes, several universities offer online options for public health degrees:
University of Sydney
Griffith University
James Cook University
University of Newcastle
Contact OzTREKK to discuss your options. Let's chat!