UQ Medicine student panel webinar: Meet upper-year students!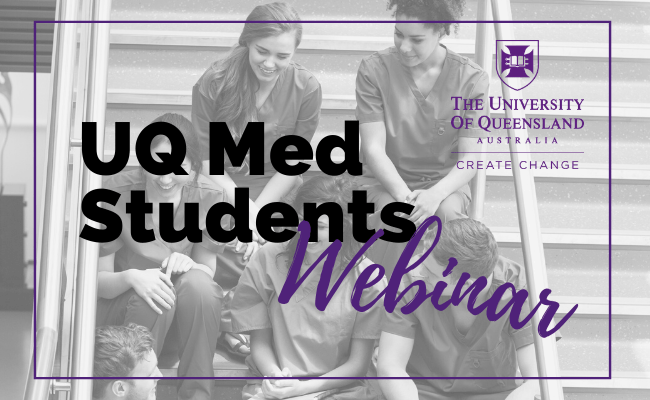 Are you ready to find out what studying medicine in Australia is really like?
Upper-year UQ Medicine students want to talk to you!
Join OzTREKK and upper-year University of Queensland MD students for this casual webinar where you'll discover more about
being a Canadian student in Australia: how to prepare for and succeed in med school;
living in Australia and life in Brisbane, Queensland;
studying medicine: the good, the not-as-good, the amazing…
PBLs, study groups, exams, tips and tricks;
returning to Canada: how to secure electives, how to improve your chance of matching via CaRMS.
The Speakers
Cheryl Forbes
Hey! I am Cheryl Forbes and I am from Calgary, AB, Canada. I am currently in my first year of medical school at the University of Queensland. This year has definitely been interesting with the global pandemic. Despite these new restrictions I have still managed to meet some amazing people, learn some pretty awesome things, and squeeze in a little fun along the way!
My undergraduate degree is a Bachelor of Science in Nursing. I have been a Registered Nurse in pediatrics for the last 8 years. The years I spent working in the hospital exposed me to many different physicians and specialties and ultimately sparked my interest in becoming a doctor myself. I guess you could say my path to medicine wasn't the 'traditional' pathway. I wouldn't change a thing as I am now living my dream studying medicine in a beautiful city surrounded by some really amazing people!
Laura Milliken
Hi there! My name is Lara Milliken and I'm a first-year medical student at UQ. I was born in Vancouver, BC (go Canucks) and completed my BSc at Queen's University in 2018. When I graduated, I decided to take a year and a half off to move to Melbourne on a working holiday visa. After absolutely falling in love with Australia, I decided to apply to medical school through OzTREKK and couldn't be happier with my decision! While nothing is ever guaranteed, my hope is that after completing my MD, I can become an OB/GYN and help advocate for women's global health equity.
Interests: Ice hockey, the personal lives of obscure comedy writers, screenwriting, road trips, pretending to know a lot about cocktails because of "my time as a Melbourne bartender aha."
Fears: Magpies and bush turkeys (UQ staples, apparently)
Kiran Grewal
My name is Kiran and I'm a first-year MD student at UQ. I'm originally from Edmonton, Alberta (go Oilers!). I completed a BSc Specialization in Psychology at the University of Alberta in 2017 and worked as a pharmacy technician/assistant during my 2-year break from school before buckling down for medical school. In my free time I love to engage in various forms of physical activity namely salsa dancing, soccer, rock-climbing and kick boxing, finding new cafes and restaurants to try, plant shopping, and anything to do with the fine arts!
Kathy Kwan
Kathy Kwan is a second-year UQ MD International student and the International Subcommittee Chair for the UQ Medical Society in 2020. Kathy is from Vancouver, Canada and completed a Bachelor of Science, Major in Biochemistry at the University of British Columbia prior to pursuing a medical education in Australia. Hobbies include hiking, volleyball, basketball, reading, and trying to imitate the Aussie accent to annoy her Aussie friends.
UQ Medicine Students Panel Webinar
Date: Wednesday, August 19, 2020
Time: 6 p.m. EDT / 4 p.m. MDT / 3 p.m. PDT
To register, please contact OzTREKK Medicine admissions officer at medicine@oztrekk.com!
*
Please let us know if you have any questions by emailing medicine@oztrekk.com or by calling toll free at 1-866-698-7355. Get your questions ready!